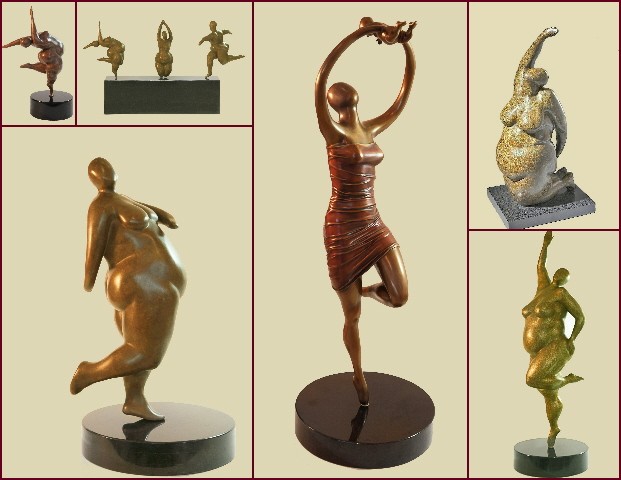 Patricia Peters is an artist who has mastered the disciplines of sculpture and painting through experimentation and innovation. She worked as a fine art instructor in New Jersey for many years.She enjoyed encouraging her students to explore, grow and develop their art. She moved to South Florida in 2001 where she immediately became an important member of the arts community in the Palm Beaches.
Patricia is the recipient of many awards and prizes and her work is in several important collections. Currently she devotes her time exclusively in three dimensional design using clay and bronze as her favorite medium. Throughout her work there is a recurring concern for the power inherent in all women. She believes that all women are beautiful and should be celebrated! Consequently, her sculptures honor the female form for all of its irregularities and perfections.
In her latest bronze collection entitled Joyous Women, Patricia expresses energy and movement vibrantly. Transformation and fluidity engage the viewer from all angles. Another important theme in Ms. Peters work is the quest for family and friendship. In Family Circle, curvilinear lines embrace and entwine the figures and give rise to the feeling of warmth. intimacy and love of family.
Patricia Peters clay and bronze sculptures are currently on view in several galleries across South Florida. She is a founding member of the Clay,Glass, Metal and Stone Gallery in historic downtown Lake Worth. She actively works with organizations that showcase area artists.
Patricia Peters, Sculptor